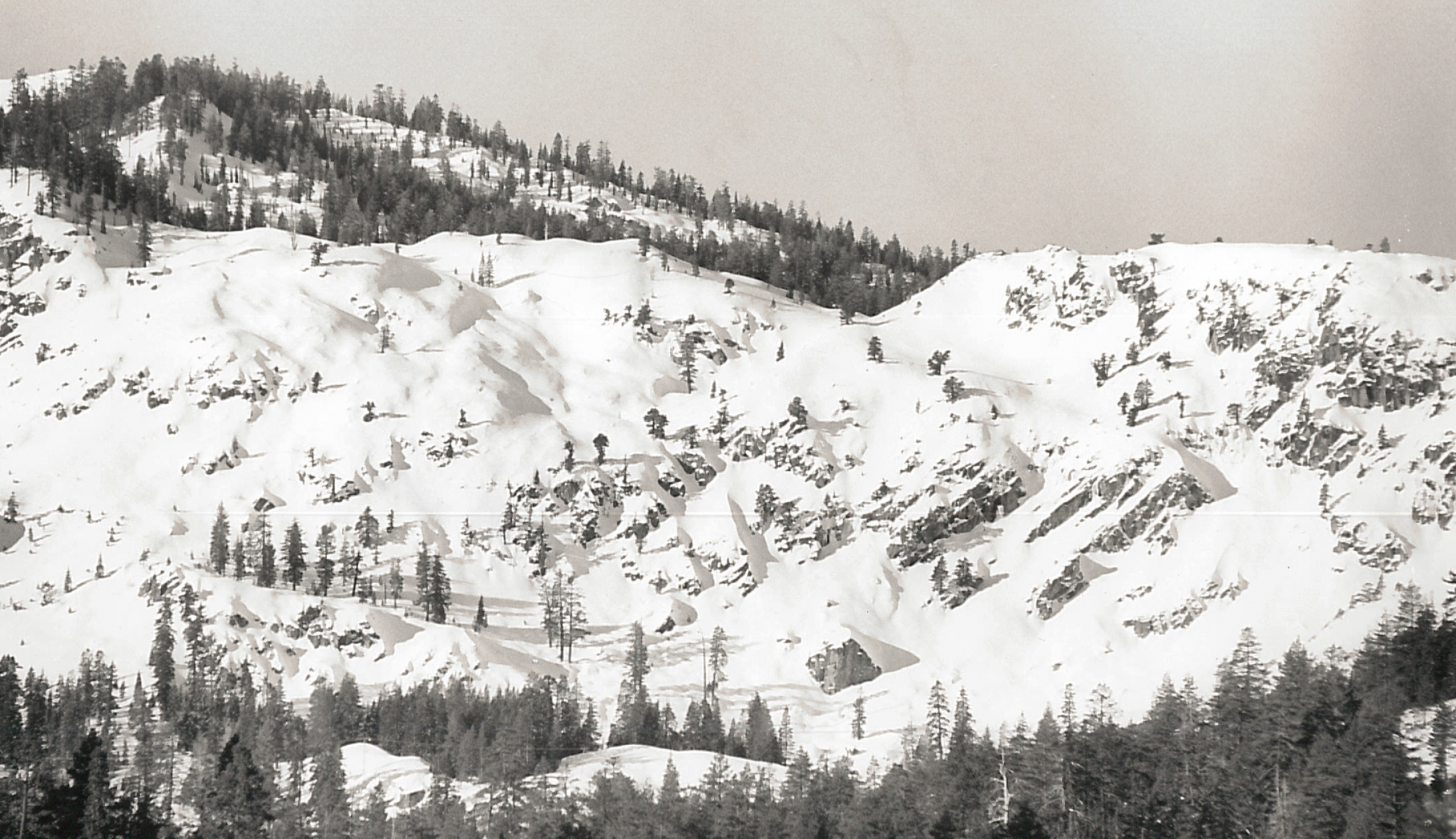 In the mid 1980s, long-time Alpine Meadows Ski Resort employees Troy and Sue Caldwell set out to purchase a modest five acre lot to build and operate a small bed and breakfast. The Caldwells were drawn to the vast undeveloped land along the west side of the Alpine Meadows Road leading to the ski area.
Oddly enough, the Caldwells were not the first to envision living along the beautiful granite slabs and old growth pines. Decades earlier, John Reily, the visionary behind the Alpine Meadows Ski Area, began planning a subdivision in the late 50s off the backside of Squaw Valley's KT22 chairlift.
By 1968, the area had been zoned for several units, but only Reily's home was constructed. True to his grandiose nature it wasn't long before Reily abandoned the Alpine Vista project to set his sights on a larger dream in Ward Canyon with a proposed development in Twin Peaks. Today, only two homes were completed on what is now known as Alpine Vista Rd.
In 1989, the Caldwells fell into a bit of luck and acquired not just five acres, but the whole parcel along the Alpine Meadows Road from Southern Pacific Land Company. With this drastic increase in acreage, Troy Caldwell's original vision shifted from a small bed and breakfast, into a small residential ski community to share his love and enthusiasm for the sport and the unique Sierra terrain. A WHITE WOLF'S TALE - Article Date: December 5, 2014. By Eddy Starr Ancinas
Because of the extreme environment, Caldwell was challenged to create a construction design that could withstand the alpine elements. With a rich background and deep passion for architectural concepts, he began experimenting with concrete building materials. After decades of tested designs and careful planning, Caldwell is ready to fulfill his dream, and perhaps Reily's too, with White Wolf Tahoe.
Installation of the chairlift towers in 2005 was a great grassroots effort from dozens of local community members who volunteered their time and energy.

To reduce ecological disruption, the towers were flown in for placement.

Experienced volunteer Russell Blair, carefully guides heavy cables to secure the tower's crossarms.

With the exception of sending the crossarms to Utah to be galvanized, the total construction of the chairlift towers took place at White Wolf. Caldwell spent many hours diligently in his garage designing and welding the parts.

Weather, not always cooperating, had filled the hand-dug holes twice with snow postponing the aerial placement. Volunteers rallied around Caldwell, and helped clear the holes for the rescheduled installation.